This year we start with simple words: THANK YOU! 2017th Edition was full of highlights: over 2000 visitors, 30 teams, 40 judges, live cooking shows, Snowlicious, Igloos, a magic Winter Wonderland AND: 2.800,18 € for DEBRA!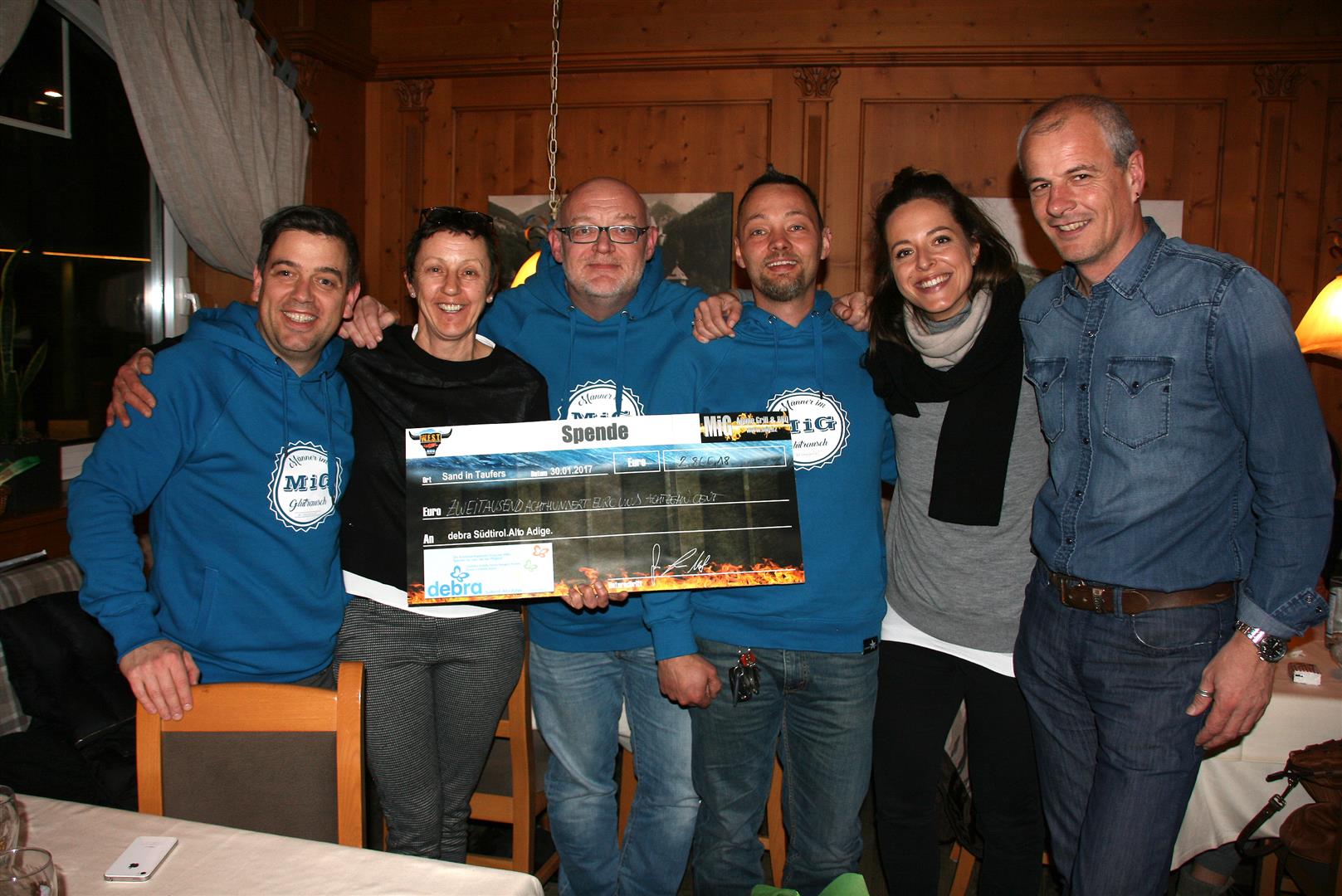 f.l.t.r. Myrko Leitner, Isolde Mayr-Faccin, Haymo Gutweniger, Michele Capano, Katharina Willeit, Ernst Seeber
The audience and the teams appreciate our idea to support the butterfly kids during the competition. We got a call on Monday from Hannes and Heike (BBQ Longhorn Ranch Hands) and they told us that they donate the whole price money 1.542 Euro to DEBRA!
"Dear Heike and Hannes, Thank you very much for this awesome gesture!"
Let's start with a video from Jörn Rochow – BBQ aus Rheinhessen.
After W.E.S.T. is before W.E.S.T. We start planning in spring 2016. We got a lot of feedback from teams, judges and visitors that has to be analyzed and implemented. Then we found out that Weber and Develey started a contest on the sauces from Develey. First Prize was a weekend on W.E.S.T. 2017!
Wieser
and the Manitour-Driver Heinold for the support.
Weber presented the new generation of the gas grill Genesis II and the Summit Charcoal in the igloo to the italian journalists. The Youtube-Blogger Jörn, Daniel, Christian and Martin started with the Live Cooking Shows on the grills. We gave them mystery baskets, so they had to be creative to cook something for the audience. Thank you for being with us!
Snowlicious
. A professional kitchen installed on a PRINOTH snow groomer with the goal of offering delicious food on slopes, in an itinerant way. Andrea Campi is the brain behind this idea and the chef on Snowlicious. We prepared the Philadelphia Cheese Steak and the combo-plate in the kitchen. The Combo-Plate contained the 4 meats from the contest – Chicken, Ribs, Pork und Brisket. Our friends from Jubatti prepared some arrosticini (tipical dish – basically sheep-skewers) It smells like BBQ in the whole valley.
Pichlerhof
, coffee from
Nespresso
and tea – for free during the night. The judges registered at 9am and we was happy to have enough judges and some of them helped as volunteers in the turn-in area. It was as hard for judges as for teams, reps and organizers.
Metzgerei Hannes Mair
, cabbage, "black kale" and
Nespresso
-coffee. 20 Teams cooked it and Royaal BBQ from the Netherlands won this category.
Grand Champion: BBQ Longhorn Ranch Hands (AT)
Reserve Grand Champion: Gecko BBQ (CH)
Category Chicken: Smoke and Fire BBQ Team (BE)
Category Ribs: Smoke'em All BBQ Team (IT)
Category Pork: Brig Boys BBQ Team (IT)
Category Brisket: Smoke and Fire BBQ Team (BE)
Here you find the official results [Link to KCBS]
Last but not least – Thank you again to all of our Sponsoren ! Without you, no W.E.S.T.!